Sacred Space 2.0
Purposefully built installations that reduce stress and restore mind body balance
The Evolution of Sacred Space
Designed by Ross Lovegrove and printed using 3-D robotic technology by Nagami, Sacred Space is a purist immersive healing experience designed to develop In-Sight. Using light, sound and bio-feedback to reset equilibrium and heart coherence, Sacred Space offers a refuge from the constant influx of noise on the senses; a place of Pure Meditation, Intention, Setting and Divining.
Meditation is a Journey of our Consciousness towards the Self. Through contemplation and centering prayer one enters with the intention to find the stillness within, the ground from which transformation can occur.
The creation of Sacred Space is influenced by the life and work of St Theresa of Avila; a 16th century Carmelite nun who described the soul as a castle made entirely of a single diamond. Entering Sacred Space we consciously enter the castle to work on our union with the Divine within.
In his own words, Ross Lovegrove sees the vision for A Modern Day Sacred Space as the 'opposing force' in our contemporary culture and an essential element in human healing.
A Modern Day Sacred Space is designed to help us find authentic presence in a culture of busyness.
---
What is it?
Sacred Space 2.0 is a meditation cocoon for the evolution of the human soul. Paying homage to the liturgical sacred space's of the past whilst acknowledging the real social challenges that we now face as a culture: Burnout, fatigue, disconnection, overwhelm and addiction.
In the 1970's you would enter the iconic red telephone box designed by Sir Giles Gilbert Scott to make a call and connect to a loved one, in 2022 you enter Sacred Space to deepen your connection to Self in the modern world.
"All of humanity's problems stem from man's inability to sit quietly in a room alone."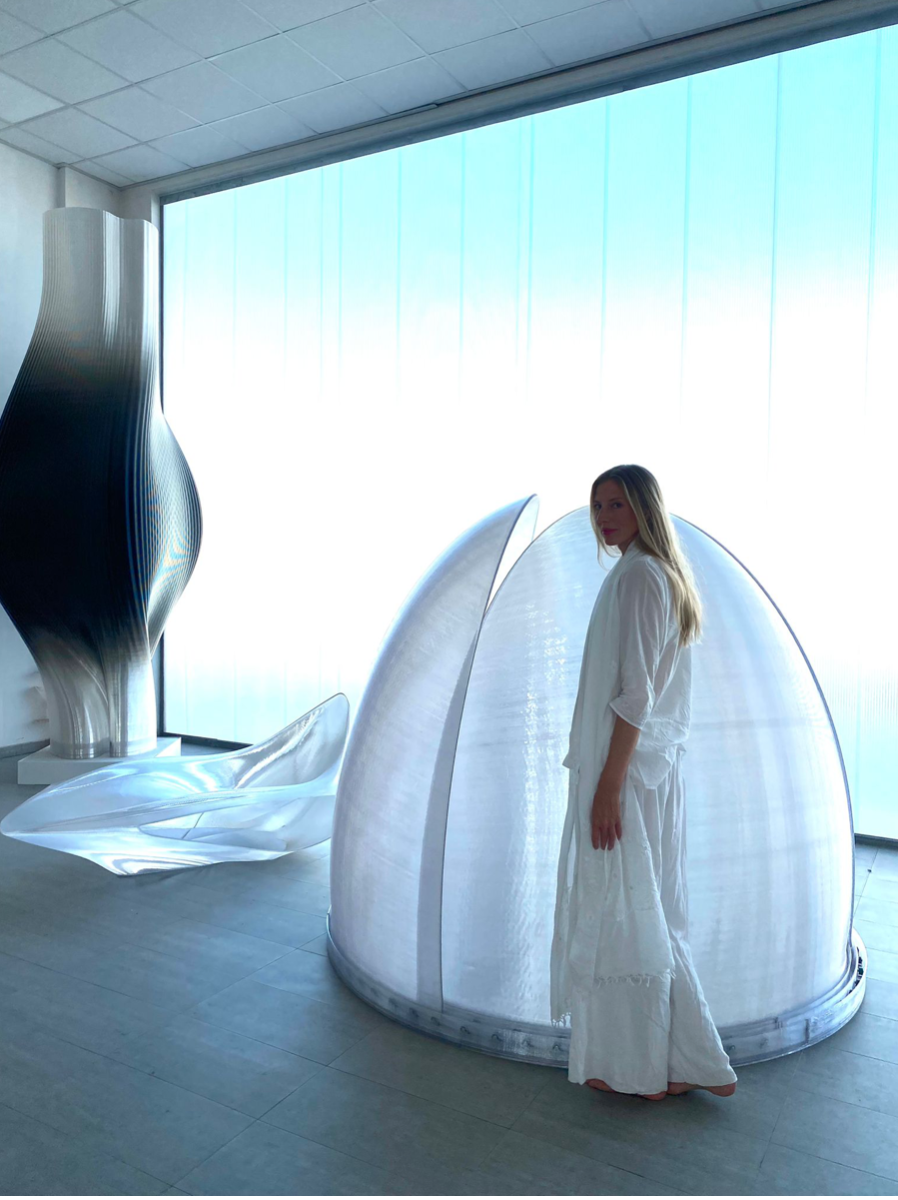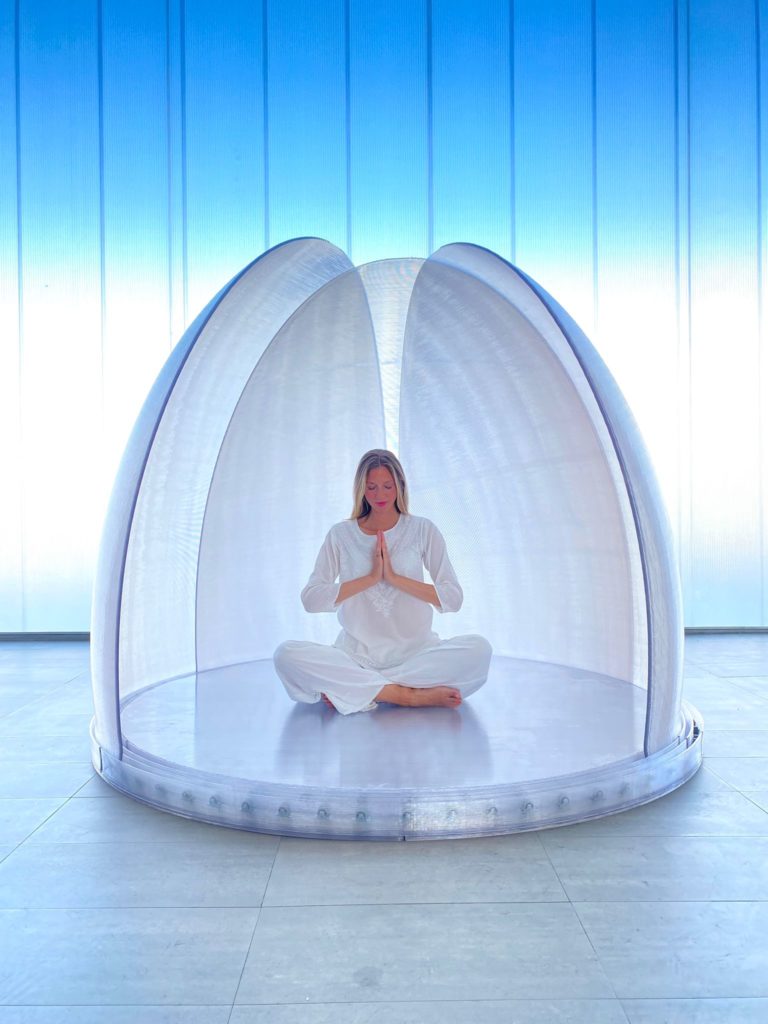 ---
---
Sacred Space is as a Spiritual Technology.
We are creating environments that fuse
spirituality and technology to
aid in human flourishing.
With the Advent of Artificial Intelligence for us to evolve as human beings in the 21st century, we need to be concerned with developing our own Beingness. If we can amplify our own Beingness and learn to become a channel for Grace, we might learn how to teach AI to become more benevolent.
With the acceleration in the speed and volume of experience we live on a daily basis the rate of depression, anxiety, ADHD and other mood disorders has sky-rocketed. The use of antidepressants alone has increased by nearly 400 percent since 1990.
We need practical design solutions for modern life that allow us to turn inwards and look inside of ourselves to develop the skill, patience and tolerance to be alone with ourselves.
New Being Space of the Future
1.

Designed for future cities, private dwellings, spa and wellness hospitality venues and public spaces.

2.

Sacred Space is part art object, part multi-functional piece of design.
3.

Facilitates Mind Breath Symbiosis and Heart Coherence.

4.

Improved wellbeing, calm, focus, receptivity and performance.
---
The concept to place Sacred Space (s) at landmark locations across the world to define the archetypal journey of the human soul. A Sacred pilgrimage has the potential to reveal and transform, identifying the places of departure, arrival, and return on these transformative journeys.
Are you a spa? Integrate a Sacred Space experience.
Are you a home owner? Pre-Order a Sacred Space for your home or office? or wellness spa.
Are you a luxury brand? Support our Global Tour.
Are you a developer? Envision Sacred Space as a beacon of healing in your environment.
Are you an investor? Connect with us.
---
Sacred Space Retreats
On the pristine beaches of the southern most tip of Africa, just miles from the South African border lies a wilderness like no other. Built in the style of a Zulu fortress, Kupulangu's hilltop residence is a spectacle even for the most discerning traveller.
Join the waiting list